Iran is not here: and if we're smart, it won't be
Two days after the protests, it's time for perseverance and nuance on a whole variety of fronts
The sign above, held aloft during Saturday night's Tel Aviv protest, is worse than absurd or asinine. It is dangerous. It is dangerous because it is false—there are no mullahs here ordering the execution of people who participated in anti-government protests, and even the worst of the worst of the government (and there is plenty of terribly bad) don't have that in mind.
What does the government really have in mind? What would replace Judicial Review? What is the "reasonable test" and why does it matter? How might this all play out? We discuss that in our upcoming podcast with Haviv Rettig Gur—see the bottom of this post for more details.
But what is worse than the sign's being utterly false is that the hyperbole affords the Right yet another justification for ignoring the Left. Ran Baratz, a conservative intellectual who writes regularly for Makor Rishon and for whom I have a great deal of admiration (sometimes I agree, sometimes I don't, but he's almost always interesting and thought-provoking), said in his column on Friday that the Left is having a tantrum. That's utterly false— this is not about a tantrum, but rather, about a deep-seated fear that many of us have regarding whether Israel will remain a state half of us would want to live in. But signs like the one above give Baratz precisely the ammo he needs to make his unfair claim.
Much less unglued were the signs below, at the Jerusalem protest, which I attended. A poem (top right) by Yehudah Amichai, a quote from Micah 6:8—"Do justice, love mercy and walk humbly with God" (bottom left) and "there is no judgement, there is no judge," a well known Talmudic aphorism (bottom right).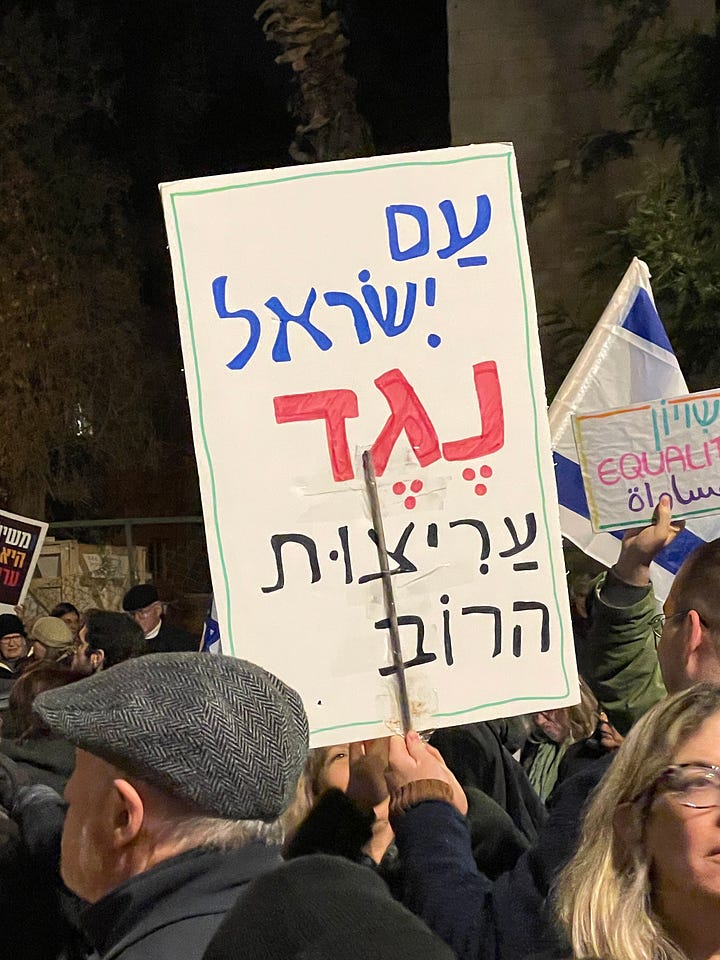 Rather than claiming that we've become Iran—which we have not, and which we are not about to—the protesters in Jerusalem, Haifa and Tel Aviv on Saturday night did something smart for once. They refused to cede the flag to the Right. The photo below is a small fraction of the hundreds of flags that were aloft at the protest we attended.
---
The Nuanced Israeli Voices You're Probably Not Hearing
Still, amidst all the histrionics (which are understandable, because the danger is grave, even if the battles are far from over), one can still hear voices of reason, of moderation, of calling for dialogue and compromise.
If this enterprise called the Jewish state is to survive, those are the voices that have to be heeded.
Very few of those get translated into English. Almost none, in fact. In Hebrew, thankfully, there are many to be read. Consider the front page of the above-mentioned Makor Rishon, a center-right (largely religious) Israeli paper, this weekend.
In the orange frame (which I added) on the bottom left is a column by Ari Shavit, to which we will return. In the purple (also not in the original paper), second from the left, is the above-mentioned column by Ran Baratz. Even though Baratz does call the reaction of the left to the proposed changes to the judicial system a "tantrum," it's worth noting how he ends his column:
The task of the Right at this moment is not to respond to the Left's tantrum with a tantrum of its own, but to lay out a sophisticated mechanism for debating the proposed reforms. With the Left completely unglued, governmental restraint and good judgement are the call of the hour.
And this from a guy on the pretty hard Right, who knows that the government could just ram its reforms through, if it wanted to (which it says it does and will).
---
Inside the paper were two columns (among others), by Ari Shavit of My Promised Land, and Yair Sheleg, less known in America, but as one of Israel's leading public intellectuals, someone who deserves to be much more widely read.
Sheleg begins his column (yellow outlines on the right) by noting that in 1995, he was asked to write a column about the General Security Service's (Shin Bet, in common parlance) worry that violence against Yitzchak Rabin was a real possibility. But he didn't write the column, Sheleg recalls, because the notion of violence seemed absurd to him. It no longer does, obviously.
In this week's column, entitled "The Right and the Left Refuse to be Enemies" (a play on a well-known Israeli idiom, "Jews and Arabs Refuse to be Enemies"), Sheleg concludes as follows:
This is the the critical hour for the various mediators—people who are listened to in both camps. First and foremost is the President, Isaac Herzog. He is the one who needs to bring the heads of both camps to negotiations, under his aegis, and to make clear that if he is rebuffed, he might no longer be able to continue in his position, with everything that that implies.
Sheleg is essentially demanding that Herzog (who interestingly, refused to come outside his house during the Jerusalem protest on Saturday night, even as thousands of people chanted for him to do just that) either get the sides to negotiate, or that he bring down the political house, likely by resigning, among other steps.
Ari Shavit's column (green outlines on the left) is entitled "The Silence of the Moderate Right." It begins:
Terrible days. In Jerusalem, there is a government entirely unhinged, while in the Ministry of Justice sits a Robespierrian revolutionary who knows no limits.
You get the drift. But all is not lost, insists Shavit as he concludes his column—this is the hour of the moderate right:
When extremists are burning the rules of the game and steamrolling half of the nation, they destroy our ability to live together and to survive. Only a reawakening and arising of the moderate right can stop this insanity. My good friends on the right—now it's your turn.
---
So there is some nuance in Israel; what about across the ocean?
Now, if we could get some of that moderation to arise across the ocean, we might be in better shape. If Israel has its "Iran is here" signs, America has rabbis who have decided that they will no longer say a prayer for Israel in their synagogue, or at least not the words "the beginning of our promised redemption."
I still recall, from decades ago, how Professor Aviezer Ravitzky (once widely mentioned as a candidate to become President of the country) spoke about the two possible ways of understanding "the beginning of our promised redemption." One way, he said, was to see redemption like the rising of the sun. We know with certainty that the sun will rise, just as we know with certainty that Israel will redeem the Jewish people.
But, said Ravitzky, one can also think of the "beginning of our promised redemption" as a seed planted in the earth. We hope that the seed will sprout, but we also know that nothing is certain, and that in large measure, it is up to us to water it and to care for it. So, too, he said, with the second interpretation of the prayer. Perhaps the "beginning of our promised redemption" is not a claim of theological certainty, but rather, a demand of ourselves, to make sure we don't squander the opportunity?
There's no way a rabbi today can in good conscience lead her/his community in the prayer for the State of Israel? Not even with that second interpretation? The prayer begs God to "send Your light and truth" (a phrase taken from Psalms 43:3) to Israel's ministers, leaders and advisors. That's not worth saying now?
Did that congregation stop saying a prayer for America when it seemed that America had spun off its axis?
We need support here, not conditional love. We need loving concern, not being excised.
---
And then, of course, there is the mirror response. Before we give an example, let's remember that it is thanks only to Bibi Netanyahu that Avi Maoz is part of the government. Without Netanyahu's explicit consent, it could never have happened.
We all know that Maoz is homophobic, which is horrible enough. What else does he believe? Here, we quote from the left-leaning Haaretz, from the previous weekend:
In Maoz's words:
Our [party's] flag is an unequivocal war against progressivism. The status quo needs to change, we need to make sure that Judaism is reflected in every corner of the country's life. Israel will be a country that observes and keeps the Sabbath in public spaces, LGBT families will not be recognized, and women will not serve in the army. Their contribution will be that they marry and raise a family.
[DG—elsewhere in the article, Maoz also notes that women should not be permitted to serve in the Knesset; they can have political influence "through their husbands". He wants to shut down all non-Orthodox prayer at the Kotel—about that, Smotrich and Ben-Gvir, also in the government thanks only to Bibi, agree. Maoz has got a long list.]
We will not be like countries that are for all their citizens. God forbid. Jewish values always trump individual rights. Look, I've got tools and budgets, I've come to get things done, and we will clean up public systems. Test me, we have patience. This is only the beginning.
That does, actually sound like Iran, though there's close to zero chance that Maoz can make that happen. But what should scare you is that he wants to. He's proud of that stance, and he's in the government, responsible for the "Office of Jewish Identity" thanks to one man, and one man only.
Benjamin Netanyahu.
So when Bibi not long ago addressed a group of active Israel-supporters in the US, the vast majority of whom are not Orthodox, who do want non-Orthodox prayer at the Kotel, who do think women ought to be in the parliament, who do think women should serve in the army, what kind of a reaction did Bibi get? He wisely spoke only about Iran, ignoring the ginormous elephant in the room, and got … a standing ovation.
Yup, you read that right. He got a standing ovation.
Do people not understand what they're empowering when they do that? Do they not understand that Netanyahu chuckled and says to himself, "All I gotta do is mention Iran, and they'll support me no matter what"? Do they not understand that Bibi needs to know that they will support Israel no matter what, but that he also needs to know that if he knowingly allows racists, homophobes or those who want to endanger Israel's democracy into his inner circle, (Betzalel Smotrich was just recorded as having boasted "I'm a fascist homophobe but… I won't stone gays") their support for him has to evaporate?
One of my kids heard about the standing ovation and WhatsApp'ed me, "most of them probably aren't malicious or evil but the repercussions of their actions are sickening." Well, yup.
It's absolutely possible to show unwavering political support for Israel while making clear that one detests the rhetoric and makeup of this government. One just needs some nuance, and an immediate end to the Bibi worship which now literally endangers the decency—and possibly future—of this country.
---
---
The sadness, the worry and the palpable grief that one feels in the air here was punctuated Saturday night in Tel Aviv by Ivri Lider, one of Israel's most beloved singers. He was scheduled to perform that night at Habima, the national theatre adjacent to where the protest with some 80,000 people was taking place. Social media warned concert-goers that all the roads would be blocked, that they should leave plenty of time to get to the theater by foot.
About an hour before his scheduled concert inside the theater, Ivri Lider suddenly appeared on the stage at the protest. He asked the crowd to join with him in singing one of his most popular songs, "I was lucky enough to love" (see a performance here).
אז אני זוכר שיש ידיים שרוצות אותי קרוב
אני יודע שזכיתי לאהוב



Ani zocher she-yesh yadayim she-rotzot oti karov
Ani yode'a she-zachiti le-ehov



Then I remember that there are hands that want me close
I know that I was lucky enough to love. 
The message was clear. If on most nights, "I was lucky enough to love" is a love song between two people, on Saturday night, it was a love song from a nation to the country it desperately wants to save—from vitriol, from mutual hatred, from disregard, and maybe, from violence.
---
There are voices of moderation springing up throughout this country. As of this writing, President Herzog is trying—though apparently with zero success thus far—to get the various perspectives to a negotiating table, to offer some compromise on the planned judicial reform. The government, in the meantime, promises to blast through with its long legislative agenda.
---
This popped up on my watch the morning after the protests.
HAARETZ: The organizers of the protest could not have hoped for a greater success [than last night], but they were so far only sharpening their tools. Ashel Pfeffer
---
On the legislative front, especially on the judicial reform issue, there are decent arguments to make for all sorts of positions. But when it comes to the rhetoric, hatred and dismissiveness that the government has unleashed on the 50% of the nation who did not vote for them, the imposition of Jewish tradition who don't want it imposed o them and numerous other proposals, there can be no forgiveness.
This is far from over. It may stay peaceful, but it may well not. (When the U.S. was 75 years old, it was a decade away from its Civil War.) The government is confident that if it just stays the course, the public will gradually give in and move on.
This time, I suspect that that is wrong.
For when it's about what you love more than life itself, you don't give up all that easily.
---
---
In our podcast this week, we aim to help everyone understand better what is really at stake in the battle of the judiciary. We speak with the Times of Israel's senior analyst, Haviv Rettig Gur about his recent op-ed and ask him to explain the following:
Why the right (correctly) considers Israel's Supreme Court too powerful and a runaway court? How, for example, has the threat of a Supreme Court ruling changed Israel's battle plans in the midst of battle, something that could never happen in the US?

What is dangerous about the Right's proposed fix? How would the Right respond to that accusation?

What is the "reasonableness" test and why is it so controversial now? Why do the Left and the Center believe that maintaining it is critical to Israel's democracy?

Israel has few of the "checks and balances" that are built into the American system … why is that? What could be done to change that?

Is Netanyahu very powerful or extremely weak, and why is it that he has been interviewed on Jordan Peterson's and Bari Weiss' podcasts, but is refusing to speak to the mainstream Israeli press?

How is this crisis likely to play out, and why is that much more difficult to predict than in previous Israeli crises?
The full interview and transcript with Haviv Rettig Gur will be posted on Wednesday for paid subscribers to Israel from the Inside. This week, we will not be posting an excerpt for free subscribers.
---
---
Impossible Takes Longer, which addresses some of the above themes, will be published this April. It's available now for pre-order on Amazon and Barnes & Noble.
---
Our twitter feed is here; feel free to join there, too.